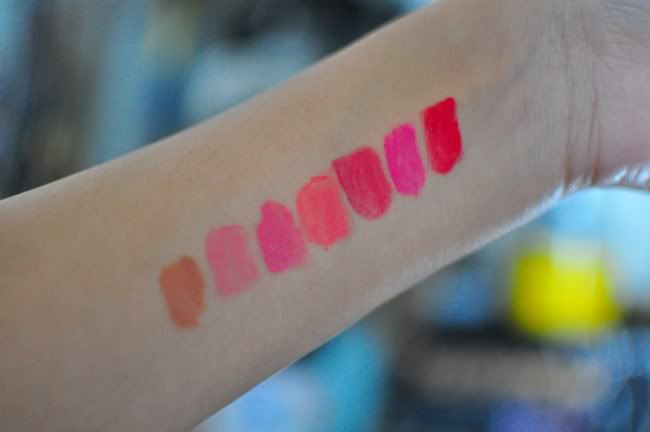 Left to right: NYX soft matte lip creams in London, Istanbul, Milan, Antwerp, San Paulo, Addis Adaba, & Amsterdam
I've been on the hunt for the perfect fuss-free lip product for quite sometime now without a whole lot of success. I tried getting into lip stains but that was a HUGE fail. Not only are they drying but they are horrible to apply. Then, a few weeks ago--a shining ray of light broke through my ominous sky--I picked up these NYX soft matte lip creams in Antwerp and San Paulo. They glide on with the ease of a lip gloss but are matte and have the opacity of a lipstick! I'm pretty sure they are going to revolutionize the future of lip products as we know it. I loved them so much that when Hautelook had a NYX cosmetics sale, I picked up a set of five more. I'm not a huge fan of the lighter shades (for nud-ish colors I prefer a glossier lip) but I LOVE the bold ones! My favorites are San Paulo (wearing San Paulo in the
post below
) and Addis Adaba, which I sometimes mix with a lighter shade to tone down. Like most matte lip products, these are still a little drying so I apply my Aquaphor first (but then again I am a compulsive lip goop applier so maybe it's just me).
Oh and did I mention that they are only $6 a pop? What are you waiting for!? You can get them
here
or from
Ulta
. FYI, Ulta often has some great promotions so I would do that. Collect 'em all! You can thank me later.