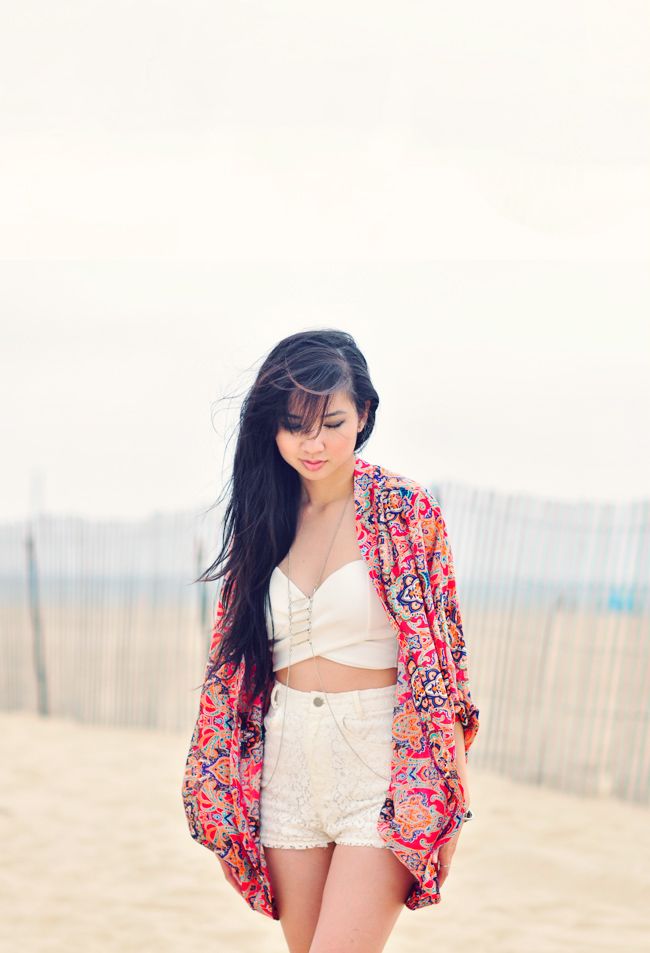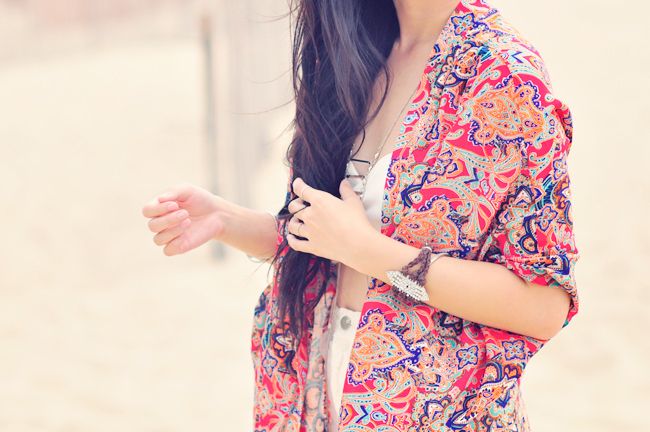 To be perfectly honest, I'm not terribly fond of the beach. I do have some fun memories of going to the beach when I was a kid, but ever since I became old enough to stop baking my skin in the sun in pursuit of a tan, I really don't have any reason to go. I just hate the wind whipping my hair everywhere and the gross feeling of having sand stuck all over me and then of course, having to fend off the brazen seagulls who come scavenging for food (little known fact about me: I HATE birds. Still really sad about the time a seagull ate my ice cream, that was traumatizing). Every now and again, it is nice to breathe in a bit of ocean air, I suppose, but I'd rather avoid the ocean and the sand and stick to the boardwalk or the pier. Nevertheless, having had brunch in Santa Monica last weekend, my boyfriend and I thought we'd enjoy the nice weather (read: not blazing hot) and burn off some calories by walking to the sand and there we were.
So, even though I'm no beach baby, I couldn't resist picking it as the title of my post. It's a reference to the song by Bon Iver. I was a pretty big fan of Bon Iver when I first discovered
For Emma, Forever Ago
during a kinda-emo-ish phase in college. It kinda completed my life at the time if ya know what I mean. Just kidding. I didn't much care for his follow-up album though and Justin Vernon was largely forgotten in my mind (although some of his older songs are still among my favorites) until I stumbled upon this hilarious Tumblr
"Boniverotica"
a couple of weeks ago. I was so miserable, sick in bed having caught a bug right after EDC, and this was the only thing putting a smile on my face! I shared a couple of the entries with my boyfriend but I had to stop because he started "getting jealous." LOL! Anyways, having been in such a poor state, I started listening to some Bon Iver songs again and they suited my mood very well, so that was nice.
As for the clothes, I picked up this kimono thing (as well as the crop top and leopard sandals) during Tobi's recent Fourth of July sale and I must say, wearing kimonos has not gotten tiresome for me. I actually wore it both days this past weekend and saw some of the same people, so I was kinda wondering if someone would call me out on it, haha. They're really the perfect piece of outerwear for summertime and make an ideal beach cover-up as well. Plus they are soo comfortable for just lounging around in at home!
White lace shorts, Nasty Gal. Crop top, kimono, leopard sandals, and ladder body chain, all from Tobi.