You may have noticed in my
previous
post that I just got a new handbag! Yup, I've rounded out my collection of Mansur Gavriel bucket bags with the
Mini Mini in Brandy
(with the brick interior). My fiancé (still feels weird to use that word) and I were in Vegas last month celebrating our anniversary and we saw a girl carrying this bag. I'd always assumed the Mini Mini would be too tiny for my needs but it actually looked pretty cute and bigger than I thought it would, plus the Brandy color which I had never seen before in person was absolutely gorgeous. My fiancé turned to me and whispered "I think you need that bag. It will look really cute on you!" and then at the shop relaunch earlier this month, he got it for me. He picked out the brick interior, which I thought seemed a bit too bright and garish for my taste in the product photos, but in person it's actually quite beautiful and complements the Brandy very well. All in all, he did a very good job, a better choice than I could've made myself.
So anyway, what fits inside the bag? I did have to pare down a little from what I usually carry. I always keep my essentials together in a little pouch so I can switch purses easily (and avoid the frustration of having to rummage through all of my bags to find which one I left my favorite lipstick in). But, sometimes whittling down to just the essentials is not a bad thing. So I got this super cute little teddy bear pouch from Forever 21 (back in stock
here
) and inside, I keep my favorite
lipstick
(MAC Brave), Studio Fix
powder
because my skin gets super shiny throughout the day, aquaphor, and a mini eyeliner. I also got a smaller wallet because my old one was way too clunky (the dimpling you see is because of the change inside). I like how
this one
from Chloé was basically a two-fer with a little card-case too (and it matches my other purse shown
here
). And if you like my iPhone case, you can find it
here
. Sonix makes the best phone cases!


Shop the post:


Here are some pictures of me wearing the various bucket bags so you can get a sense of the differences in size. For reference, I'm 5'4".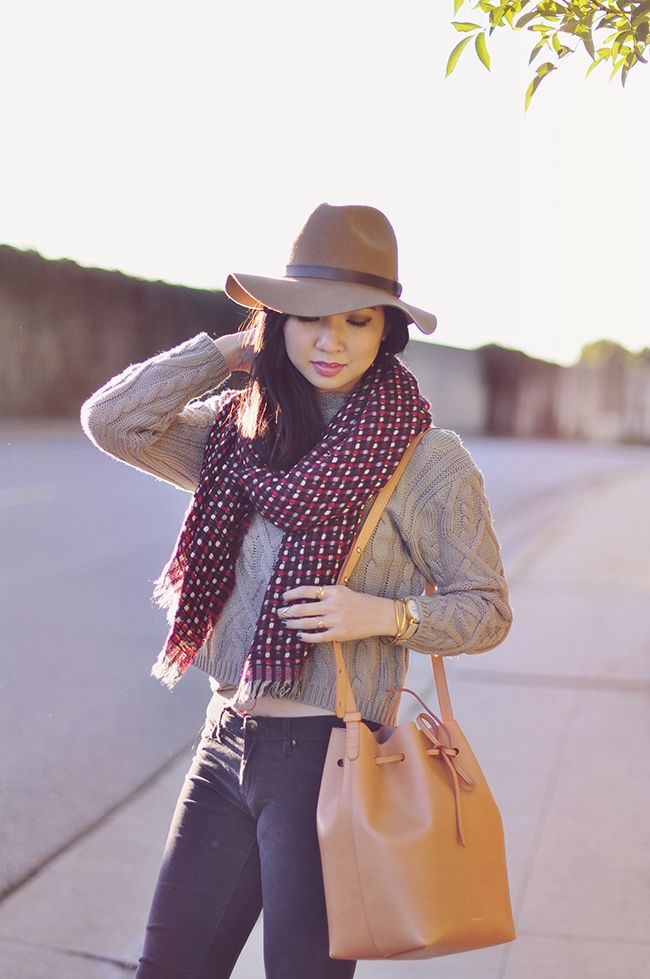 I really loved the color Cammello when I first got it (seen in the first picture); however over time the leather "tans" into the color you see in the last picture (more on that process
here
). When I had seen pictures of people carrying an older Cammello bag, I had actually thought it was the Brandy! I don't know if I would've still chosen this color if I had known how it would turn out. It stains and scratches very easily and I have all these little water marks on it now, but I'm not the kind of person who can baby a bag; I just want to live my life, you know? Hopefully the Brandy will age a bit more to my liking! I love the large size and probably use it the most because it fits my DSLR and anything else I might want to lug around with me (but I also got pick-pocketed while carrying it so beware! My fault for being too lazy to tie the bag).
Mini bucket bag in Black
:
The black is sooo low-maintenance compared to the natural leathers (this applies to all of the painted colors over the natural leathers). It still looks pretty much as good as the day I got it! It's still quite a fragile leather; I scratched it with a ring once and I thought it was pretty bad but I was able to buff it right out with some leather conditioner. This size is really perfect because it can take you from day to night. Basically I can carry everything I would carry in the mini mini, plus one of my
smaller cameras
and a bigger make-up bag with more essentials inside (eye drops, tweezers, hand sanitizer, more lip color options, etc).


Mini mini bucket bag in Brandy:


You've already seen what this cute little guy can hold!