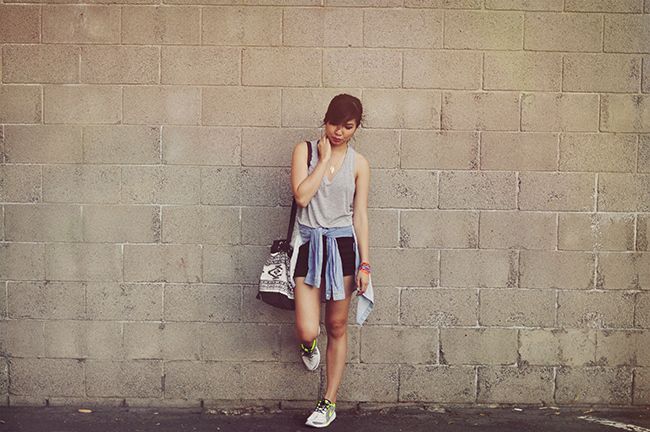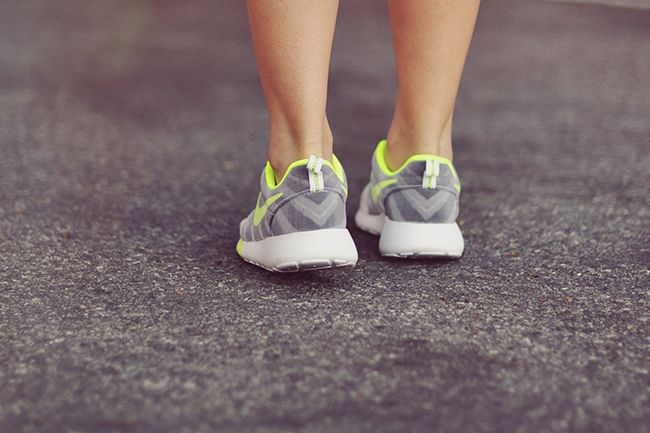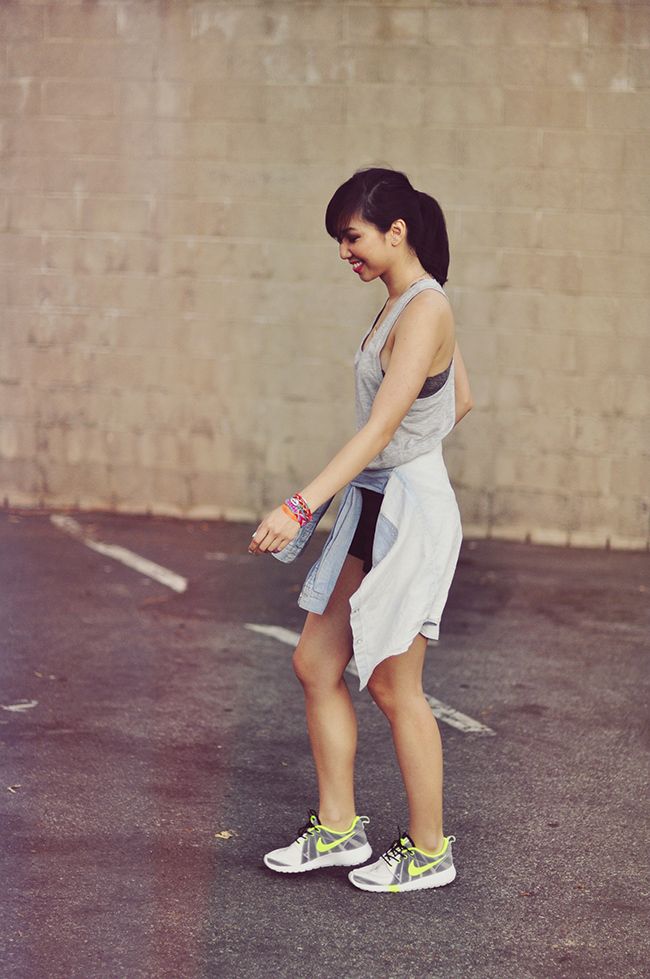 Pulso Forte Roshe Runs, Nike. Aventura tank top, Fabletics. Black denim shorts, Forever 21 (old). Colorblock denim button-up, Madewell (old). Friendship bracelet, Hipanema. Tribal bucket bag, H&M (sold out).
So I only recently (in the past 6 months or so) started living a more active lifestyle, and as such, a large chunk of my clothing budget has been going to building an activewear wardrobe. I used to scoff at those Lululemon-obsessed girls, but now I'm pretty into it (not Lululemon, but just activewear in general). My boyfriend thinks it's pretty amusing how my eyes light up whenever we pass a Lady Foot Locker, especially since I mostly do all of my shopping online and am usually too lazy to actually walk into a physical store. Luckily my sneaker habit is something he actually supports, and he got me these super cool limited-edition Roshe Runs! They're a part of a collection that Nike collaborated on with Brazilian artist couple Flavio Samelo and Jayelle Hudson. Not to mention that lime and gray is one of my favorite color combinations of all time. I mostly wear them to the gym, but they're also great on days that require a lot of walking. I will never be one of those girls that wears running shoes with everything though (with skirts or dresses?? NEVER!)...gotta keep the overall look sporty!
Speaking of sporty, my heather grey tank top is from the Kate Hudson-backed activewear line
Fabletics
, which offers you a full athletic outfit for as low as $25 when you first sign up! I have so many pairs of their leggings and the quality is so good for the price. And this tank top is so amazing that I find myself wearing it to do anything BUT work out. I'm actually planning to pick up a few more because I wear it so much.
Are you into activewear? Follow my board on
Pinterest
to see some of my favorite active styles!