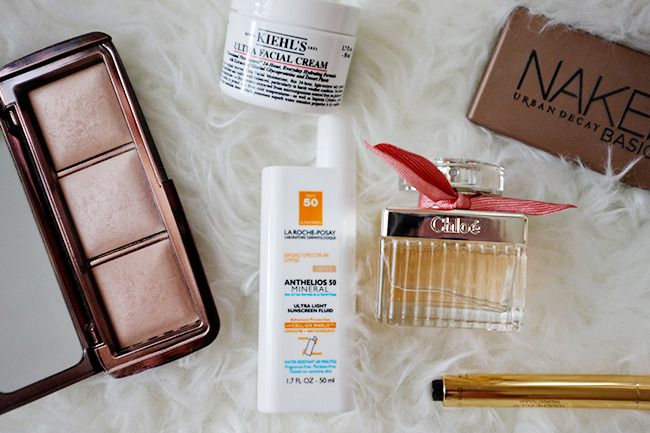 I try not to buy too much make-up since I have much more than I can use up anytime soon, but I recently allowed myself to refresh my beauty arsenal with a few new things, especially since I received a Sephora gift card. Read on to find out more about my picks and what I thought of them!
Naked Basics Palette:
I have both the regular
Naked
and the
Naked2
palettes there's no doubting that they are the best eyeshadow palettes I have ever used, with great pigmentation and wearable colors. Since the matte colors are among my most used up while some of the more shimmery shades are pretty much brand new still, I decided to get a Naked Basics palette. At first I was leaning towards the
Naked 2 Basics
since the colors seemed more wearable, but I decided that I have a need for lighter shades to blend my eyeshadow in and the lighter colors on the Naked Basics seemed to fit that bill perfectly (especially since it contains Foxy, one of my favorite shades from the Naked 2 Palette).
I had never seen the Naked Basics palette in person before purchasing it online, and for some reason I thought it would be a bit bigger, but the eyeshadow pans are the exact same size as the regular Naked palettes. Since it comes with six shades and the regular Naked palettes come with 12 plus an eyeshadow brush (I think mine also came with additional freebies when I bought them, a mini lip gloss and a mini eyelid primer), the regular Naked palettes are actually a better value since the Naked Basics palettes cost more than half as much. Overall, the shades in the Naked Basics don't seem as soft and pigmented to me, maybe because they are matte. It's not bad, but I don't think I would repurchase this palette; the regular Naked palettes are a much better buy in my opinion, particularly the Naked2 which I would restock in a heartbeat.
La Roche Posay Anthelios 50 Tinted Sunscreen Fluid:
I've actually been using this sunscreen for well over a year and I've turned on many of my friends and family onto it as well. I've become quite diligent about sunscreen the past couple of years--if I step outside of the house then I am wearing it. Since it's tinted, I wear it alone when I go to the gym/run errands or under my make-up if I have the full face on. Sun spots, hyperpigmentation, and uneven skintone are among my biggest skin concerns, and I think that wearing sunscreen every day has really helped my skin improve a lot, moreso than any other products I've tried.
This sunscreen is my favorite because 1) it's tinted, 2) the price is quite affordable compared to its competitors (around $33 regularly but I only stock up when I find it for less than $25), and 3) it's a mineral sunscreen, reflecting UV rays rather than absorbing them, which is thought by some to be better; it also gets pretty good safety ratings from the
Environmental Working Group
.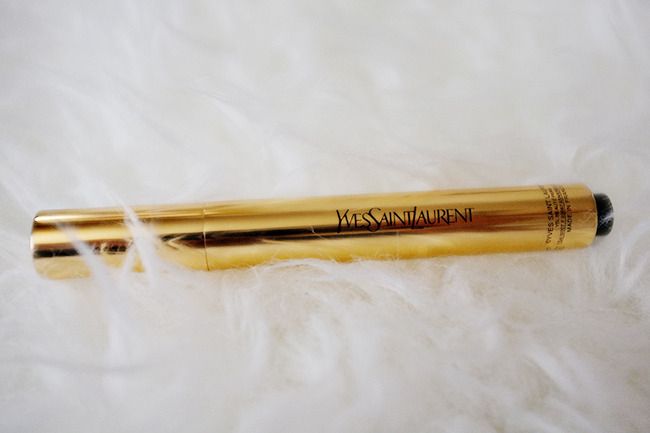 Yves Saint Laurent Touche Éclat:
When I first tried on this concealer/brightener at Sephora several years ago (before the market was flooded with highlighting products), I thought it was pretty magical, but then Sephora's lighting tends to have that effect a lot. It sat on my wishlist for a long time until recently, when I saw it at a good price on
ideel
and decided to finally purchase it. To be quite honest, I can't tell if it really does anything without Sephora's magic mirrors (though it should be said, that the lighting in my house is not great), but for some reason it feels super luxurious to me so I only use it when I have a lot of time to do my make-up and feel like I need a special, imaginary, something extra. However, it's not that a great concealer or a great highlighter since I can't see its effect, so I probably would not repurchase, especially since it's pretty pricy at $42.
Roses De Chloé perfume:
I'd been coveting this perfume ever since it came out. But since I have so many spring/summer perfumes that I want to use up, I wasn't going to let myself purchase another floral scent for a while. Then, my cousin gave me a Sephora gift card, so I decided to treat myself. I really like the fragrance and it's definitely my current favorite, although I did experience a moment of second-guessing myself (see next item). The scent of roses is not overly cloying and the fragrance lasts surprisingly long and settles really nicely as the day wears on.
By the way, the bottle is so pretty that it's tempting to show it off on a pretty tray or something, but did you know that it's best to store perfumes in a cool dark place? Exposure to sunlight causes fragrances to break down and deteriorate more quickly.
Sephora Spray of Sunshine perfume sampler:
I love Sephora's perfume samplers and always get them for people as gifts, although I never got one for myself until now. They are such a great value since the cost of the perfume that the certificate trades in for almost always costs more than the cost of the sampler! This is a mini one, costing only $24 and redeeming for a rollerball instead of a full-sized perfume, which is why I let myself get it (I don't currently have a purse-sized perfume, after all!) I had tried a sample of
Tory Burch
before and my boyfriend really liked it on me, and I also wanted to try
Chloé Love Story
since I remembered the scent being somewhat similar to Roses de Chloé and I wanted to be able to compare them side by side and throughout the day. Since Love Story is an Eau de Parfum and Roses is an Eau de Toilette, I thought Love Story would last longer, but I found the opposite was true and was really happy with my decision to purchase Roses, which in my opinion has more depth and longevity. I'm probably going to trade the certificate in for Tory Burch.
Kiehl's Ultra Facial Cream:
I've been using this moisturizing cream on and off for a couple of years. I've tried other moisturizers to try and see what was best for my skin, but in the end I'm back to this one because it just performs better. My skin tends to feel dry in some areas unless I use this. Even when I wear eye cream, I put this on over it. It's very emollient but absorbs instantly. It also lasts me quite a long long time, I've just finished my second jar and bought a couple more during the 20% off sale that they had recently.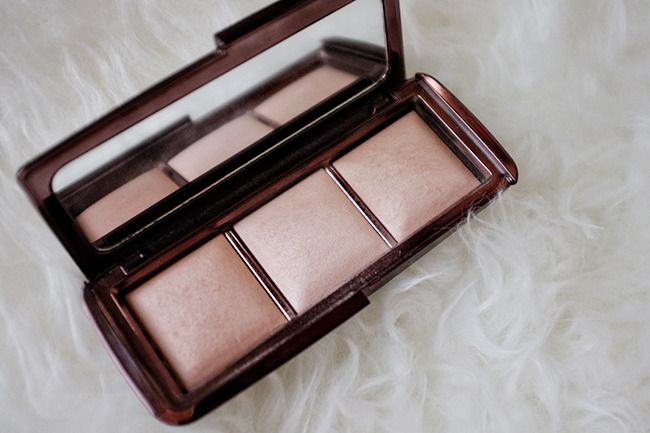 Hourglass Ambient Lighting palette:
I've been a longtime fan of highlighters, so I've always wanted to try this newer, cult favorite. However, because of the price and because I already have so many highlighters, I wasn't planning to. Then I discovered the
Peach
app, which offers 9-minute auctions on a select range of fashion accessory and cosmetic items. Using the credit that I got for signing up, I was able to score the Ambient Lighting palette at half the retail price!
So what did I think of it? To be honest, I feel the effect is very subtle. Too subtle, in my opinion. The shimmer is super fine, nearly non-existent, and maybe that's why people like it. Having a whole palette of three shades is not really necessary because there there is no discernible difference once they are on the skin, as far as I can tell. Maybe this is untrue for different skintones, but I have a hard time seeing the effect on my skin. My favorite highlighter is still the Balm's
Mary-Lou Manizer
.
Shop the post: